This is an old revision of the document!
---
Master Grade 1/100 Char's Rick Dias
Manufacturer: Bandai

Part number: BAN931421

Year of production: 2004

Gundam in-universe model number: RMS-099

Scale: 1/100

Series: Zeta Gundam

Kit type: MG

In-universe role: Custom space assault

Build date: October 2019
Manufacturer Images
Tools Used
Iwata Neo TRN1 airbrush

Mr Hobby snips

Ultimate modellers sanding strips (400/800 grit)

Mr Hobby Gundam Weathering marker set

Tamiya weathering master pastels 'B'

Additional decals: Bandai waterslide decals kit GD11 for 1/100 RMS-099 Rick Dias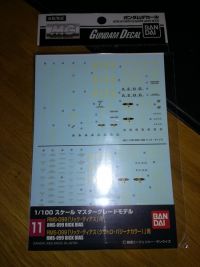 Paints Used
Vallejo surface primer - grey (74.601): inner frame

Vallejo surface primer - German red brown (73.605): red armour parts

Badger ultimate primer - dark grey: joint parts, inner armour

Mig AMMO Metal - Polished Metal (A.MIG-192): inner frame

Vallejo Model Air - Red (Red 71.102): exterior red armour parts

Vallejo Model Air - Red (Red 71.003): head red accents

Vallejo Model Air - Nato Black (71.251): exterior black armour parts, inner section of backpack boosters

Vallejo Model Air - Black: pre-shading of red armour parts, pre-shading of joint parts

Vallejo Model Air - Panzer Dark Grey (71.056): Hands

Vallejo Model Air - Blue Grey (71.115): chest armour, backpack boosters

Mig AMMO - Dark Compass Ghost Grey (A.MIG-208): inner panels of red armour, feet, joints

Mig AMMO - Light Grey (A.MIG-209): flexi hoses

Vallejo Game Colour - Orange Fire: Cockpit seat

Tamiya Black Panel Line Accent Colour: inner frame panel lines/wash

Tamiya Brown panel Line Accent Colour: cockpit seat panel lines
Thoughts
[2019/10/01]
An old kit, and another Char Aznable custom variant. There's something vaguely reminiscent to the Robotech/Mospeada Legioss mecha about it…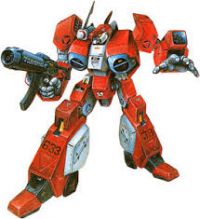 Only just started to snip out the Rick Dias from the sprues, but I'm loving the chunky retro design. This would make an awesome v2.0 kit if Bandai ever decided to retool it; there's tons of space for extra panel lines, opening hatches and such.
[2019/10/27]
Started priming parts as well as final colour on inner frame parts, including ink washes. Next up, armour parts.
[2019/10/28]
Finished joint parts, except highlighting the 'power hoses'.
[2019/10/31]
Finished all joint parts, finished exterior black armour panels, hands, dark grey backpack boosters. Started weathering feet.
[2019/11/03]
Painted the bulk of the exterior red armour parts, including pre-shading and panel lining. Had a really awkward time with the Vallejo red paint - despite thinning it down it jammed every minute or two; I've not had that problem with anything else unless it wasn't thinned or I was trying to put it on too thick, which I wasn't here. Since I have other Char Aznable red-coloured models waiting in my build queue I need to get a working red colour sorted!
Started to assemble the main torso section. Most parts now fully painted; thrusters and jet parts need painting - am going to try some enamel paints Mig Ammo Extreme Metal. That will be a good test of my abilities, since I've never sprayed enamel before.
Final Images
---
In-Progress Images
Box cover: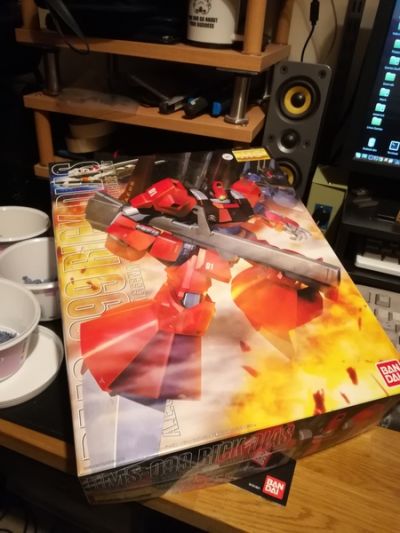 Parts snapped out and sorted: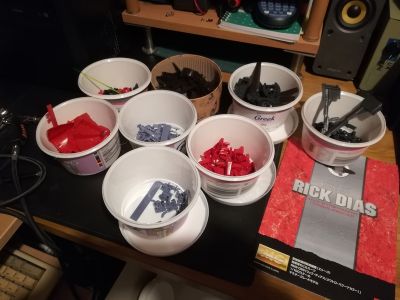 Inner frame parts primed (Vallejo surface primer - grey):
Inner frame parts with final colour (Mig AMMO polished metal) and panel wash:
Joint parts and inner armour pieces primed (Badger ultimate primer - grey) and pre-shading armour and joint parts:
Two-stage shading on the armour and joint parts; first with 5:1 Mig Ammo Dark Compass Ghost Grey + Mig Ammo Sea Blue, then blown in with Dark Compass Ghost Grey highlights:
Final colour on the dark armour parts and backpack boosters in Vallejo Model Air Blue Grey with two drops of flat white just to lighten it a touch: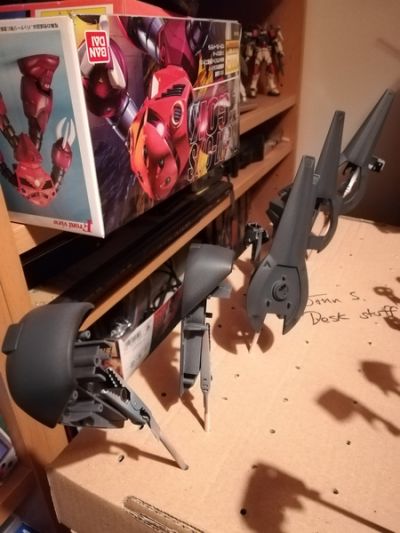 Joint parts and interior armour panels inked and ready to fit, and painting the hose details:
Hand (Vallejo Panzer Dark Grey, exterior armour panels (Vallejo Nato Black) and small connector parts (Mig Ammo 5:1 Dark Compass Ghost Grey + Mig Ammo Sea Blue again) all in final colours:
Started applying weathering effects to the feet. Just Gundam weathering markers and a tiny bit of white highlighting at the moment, but will dirty it up a bit more with some Tamiya weathering effect pastels later:
Hands are a unique type, none of the standard design I've seen on any other MG kit. Assembled and painted in Vallejo Panzer Dark Grey:
Main red armour pieces primed in Vallejo German Red Brown, then pre-shaded with Vallejo black:
Vallejo Red (71.102) blown in over the pre-shaded armour pieces: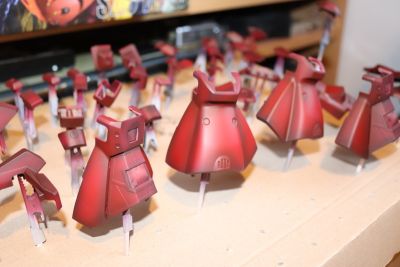 Armour panels inked and washed:
Torso section being assembled, one issue I found was that the semi-circular pipes that run over the shoulders are pretty loose:
Arm units assembled:
Backpack boosters assembled, minus thruster bells, which still need to be painted: