Master Grade 1/100 Gundam mkII Titans Test Type ver 2.0
Manufacturer: Bandai

Part number: BAN941924

Year of production: 2006

Gundam in-universe model number: RX-178

Scale: 1/100

Series: Zeta Gundam

Kit type: MG

In-universe role: Prototype mobile suit

Build date: Summer 2018
Manufacturer Images
Tools Used
Iwata Neo TRN-1 airbrush

Mr Hobby Mr Tools snips

Badger Ultimate sanding sticks 400/800

The supplied MG 1/100 hands replaced with the fixed-pose high detail Bandai Builders Parts (MS Hand 01)
Colours Used
Inner frame: primed with Badger Ultimate Surface primer (dark grey), AK Interactive Stainless Steel enamel.

Outer dark armour: primed with Badger Ultimate Surface primer (dark grey), final colour Vallejo blue grey (plus flat white to lighten)

Outer lighter armour: primed with Vallejo light grey surface primer, preshaded with Vallejo Nato black, final colour Vallejo IDF blue.

Hands: primed with Vallejo light grey surface primer

Yellow accents: MIG Ammo Yellow

Red accents: Vallejo Ferrari Red

Thrusters: primed with Badger Ultimate Surface primer (dark grey), AK Interactive Aluminium enamel.

Weapons: primed with Badger Ultimate Surface primer (dark grey)
Thoughts
An update to the original Master Grade RX-178 Gundam II kit that came out earlier. This version has greatly enhanced range of movement, neat sliding armour sections that move as you bend the arms and legs, and much more detail.
The bad points I've found is that it really feels 'loose' with all of the extra movement points, sliding sections and pivots. Although a neat looking design and clearly supposed to be the successor to the original RX-78-2 Gundam mobile suit, in real life the kit looks 'gangly'; with really long arms, thin legs. I'm not sure what I expected, but something about it just feels off.
This is only a dry-build so far (though it has sat that way for probably a year now). I need to make the effort to strip it back down and paint it.
Update Feb 2nd 2020: Started to disassemble the model in order to paint it.
Update Feb 3rd 2020: Primed inner frame and dark exterior armour parts.
Update Feb 5th 2020: Painted and panel lined inner frame.
Update Feb 10th 2020: Painted exterior armour parts.
Update Feb 13th 2020: Finished panel lining and started assembly of exterior parts.
Update May 11th 2020: Painted hands, painted weapons.
Final Images
---
In-Progress Images
Kit is looking a bit dusty here, it has sat like this for probably a year. Need to get the willpower (and a new spraybooth) to finish it…
Parts disassembled and ready for priming:
Inner frame and dark armour parts primed (Badger Ultimate Surface Primer - dark grey)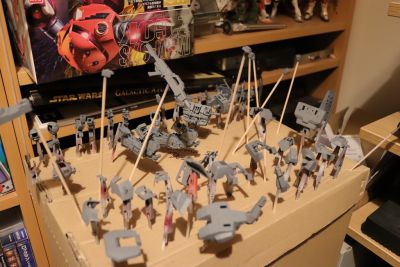 Inner frame painted (AK Interactive Stainless Steel enamel)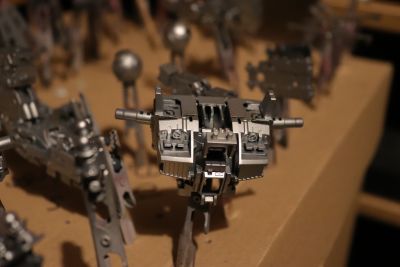 Inner frame panel lined with Tamiya black panel wash:
Central cockpit painted (Vallejo Ferrari Red, plus Tamiya panel line ink) and leg 'pistons' painted (Vallejo Gold):
Hip joints painted (AK Interactive Stainless Steel, with Vallejo Gold highlights, plus Tamiya panel line ink):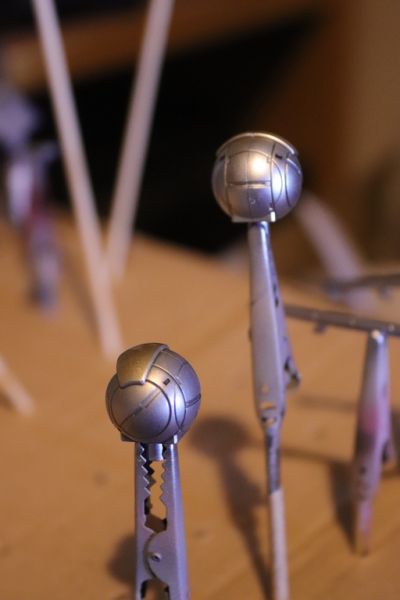 Inner frame assembled, front and rear:
Dark grey exterior armour parts primed and pre-shaded (Vallejo Black), and blue exterior armour panels primed (Vallejo surface primer, grey), the parts that will be blue are done in a lighter primer so that any pre-shading (not done yet) will stand out more:
Yellow highlight parts primed and painted: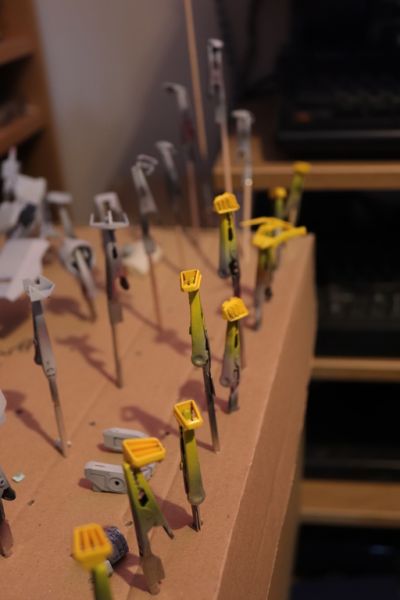 Assembly of foot components:
Priming and pre-shading of further exterior amour parts: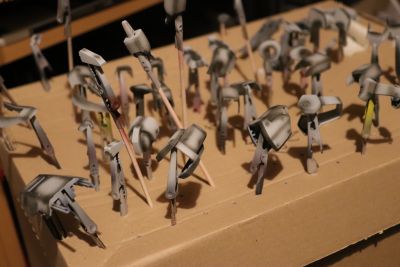 Final colour applied to exterior armour parts, pre-shading didn't come through quite as pronounced as I would have liked… should have thinned the colour (Vallejo IDF Blue) a bit more:
Primed final exterior parts, these will be finished a flat mid-grey colour to contrast against the dark blue/grey and the medium blue exterior panels:
Most exterior parts panel lined/washed and ready for assembly:
Starting to fit the exterior panels, most work done, but lining/washing still needed on the dark grey sections; missed the panel lining on one of the shoulders, so that arm needs to be re-done before final assembly:
Second arm finished and assembled, now waiting on hands to be painted and detailed: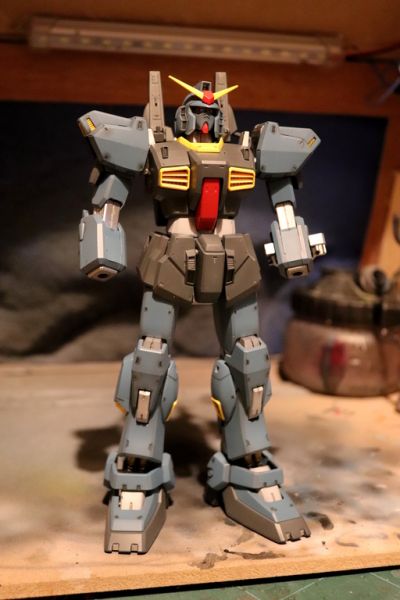 Hands added (detailed fixed pose hands from the "Bandai Gundam Builders Parts HD - MS Hand 01" set), weapons (excluding beam sabers) painted. No decals or weathering yet: