Master Grade 1/100 GM Kai Space Type
Manufacturer: Bandai

Part number: BAN914214

Year of production: 2002

Gundam in-universe model number: RGM-79C

Scale: 1/100

Series: Gundam 0083

Kit type: MG

In-universe role: Mass production space mobile suit

Build date: Summer 2019
Manufacturer Images
Tools Used
Swapped hands with MS Hand 01 (Federation) from the Gundam Builders Parts HD set

Iwata Neo TRN-1 airbrush

Home-made spray booth

Various Badger Ultimate sanding sticks 400/600 grit

Mr Hobby snips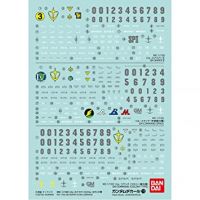 Also used Bandai waterslide decal kit 118. It's for the GM Sniper II (RGM79SP) or GM Command unit (RGM79G), but many of the decals are applicable to the RGM79C as well.
In addition I had a third party, generic RGM79 waterslide kit as well, so I'm using a mix of decals from both. There's a better assortment of 'warning' and 'caution' decals in the third part kit.
Colours
White armour base coat: primed in Vallejo light grey surface primer, pre-shading in MIG Ammo sea blue

Red armour base coat: primed in Vallejo desert tan surface primer, pre-shading in MIG Ammo gunship grey

Inner frame base coat: primed in Badger Ultimate grey primer

Inner frame top coat: AK Interactive Duraluminum enamel, various Vallejo model air (gold, blue, red) for details and Tamiya black + brown panel line ink

Hands: primed in Badger Ultimate grey, final colour MIG Ammo medium gunship grey
Thoughts
Summer 2019:
An older Master Grade kit of the RGM79 GM 'Jim' good-guy grunt suit… that died by the bucket-full in the anime. This is the slightly enhanced 'Kai' version which has extra thrusters and different armament to the basic suit.
In all of the images of this kit it looks orange/red and a slightly off-white colour… it's not! It's mint green! That's something that will have to be taken care of when I paint it!
Only dry-built for now. It will have to come back apart to be painted.
Update January 20th 2020: Started prepping the the kit for paint.
Update January 25th 2020: White parts primed, shaded and final colour applied. Red parts primed and shaded.
Update January 28th 2020: Painted parts now fully assembled. No clear coat applied yet, nor weathering or decals.
Update April 27th 2020: First clear coat applied, starting to apply waterslide decals.
Update May 11th 2020: Painted weapons.
Finished Images
In-Progress Images
Snapped together build, you can't quite tell in these images, but the bare, unpainted plastic is a very slight mint-green colour. Yuck!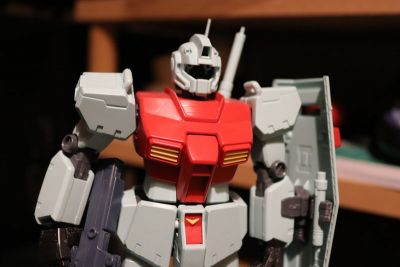 It definitely requires painting, so…..
Parts disassembled and primed in Vallejo light grey and Badger Ultimate dark grey acrylic: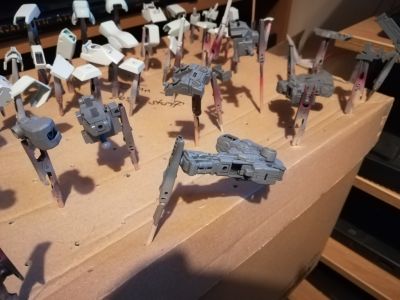 Inner frame painted in MIG Ammo Duraluminum enamel, with details picked out in Vallejo gold, ferrari red and MIG Ammo French blue:
Exterior armour parts primed in Vellejo light grey, pre-shaded with MIG sea blue and finished in MIG cold grey:
Red armour parts primed in Vallejo desert tan and pre-shaded with MIG gunship grey: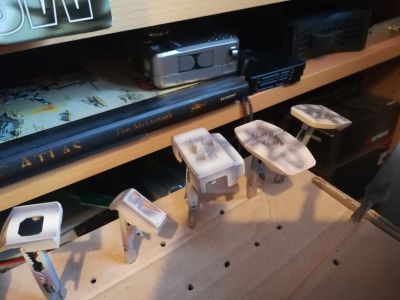 Exterior parts panel lined:
Shield: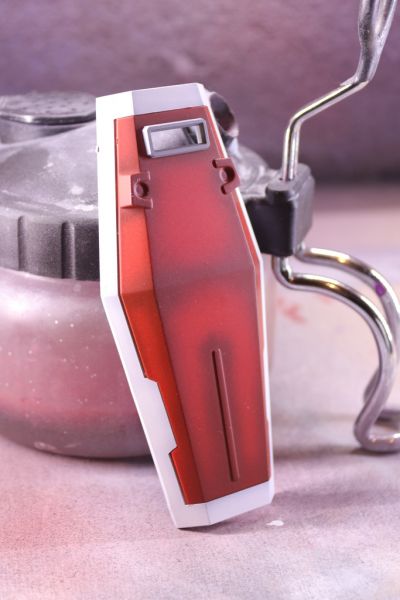 Assembling torso section:
Upper body mostly assembled: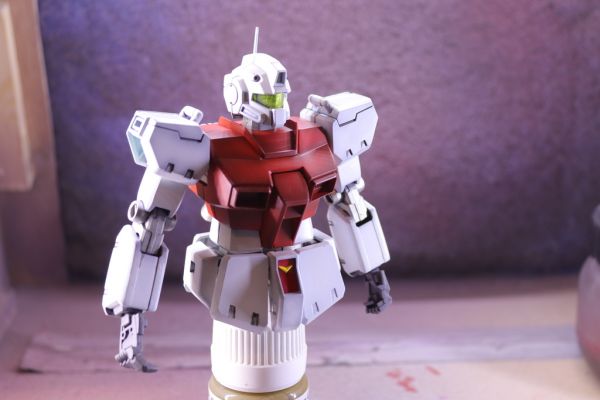 Fully assembled (minus the two chest vents and accessories/gun/etc), but no top coat, weathering or decals applied:
Starting to apply waterslide decals after an initial gloss clear coat:
Painted weapons (combination of AK Interactive Gunmetal, Duraluminium and White Aluminium for both the long rifle and the short beam spray gun), but no decals/weathing applied to them yet: