Table of Contents
Panzer Kampf Flugzeug 40 'Fledermaus'
Manufacturer: Nitto

Part number: Ma.K Series 11

Year of production: 1999

Scale: 1/20

Series: Maschinen Krieger / ZbV 3000 / SF3D

Kit type: Multimedia kit (plastic, rubber piping, brass, etc), fixed pose (no real moving parts)

In-universe role: Aircraft, Strahl Democratic Republic or can be built as Mercenary forces variant

Build date: October 2022
This is a 20+ year old kit that I bought from Yahoo Auctions Japan (via Buyee.com) in August 2021. Finding one is pretty rare, since they've been out of print for over 20 years and no-one (Wave, Hasegawa, etc) seems to have made a modern reprint of the design.
Manufacturers box art and an image of a built-and-painted Fledermaus, below:
Tools Used
Mr Hobby snips

Badger ultimate sanding sticks

Tamiya extra thin cement
Colours Used
Background
The Fledermaus, or Bat, is one of the few dedicated flying vehicles in Maschinen Krieger; most being either armoured suits adapted for flight, or hover/anti-gravity vehicles.
In the lore, the Fledermaus was an early design that the Strahl Democratic Republic used to great effect when suppressing the colonists of Earth in the beginning of the war. I suppose as time went on, it was surpassed by dedicated anti-gravity vehicles like the Falke, and flight-capable armoured suits which didn't exist when it was introduced.
From an aesthetics perspective the Fledermaus definitely looks like a thrown-together design; it doesn't have much in the way of armour, the cockpit is cramped and the landing gear and propulsion system is all exposed. In a lot of ways that makes it seem like a much more plausible design!
I picked up the kit from my favourite haunt on Buyee.com in mid 2021, having been an out-of-print kit for over 20 years. Oddly, the Fledermaus is not a kit that Hasegawa has reproduced alongside their other modern remakes of the old Ma.K designs. You would think that with their aircraft model experience they would have produced a modern version - perhaps the old dies were lost?
Box Contents
Contents:
Instruction manual

2x Painting guides / info cards (one for the SDR P.K. 40 Fledermaus variant, one for the Mercenary J40S variant)

1x Waterslide decal sheet (with seperate decals for each variant)

6x Parts sprues

(unlabelled), beige, fuselage

(unlabelled), clear, sensor covers

a (Hornisse), beige, landing struts etc

b (Hornisse), beige, thrusters & engine parts

c (P.K 40), beige, cockpit, guns etc

d (P.K 40), clear canopy parts

Figure, beige

1x Bag of multimedia parts (flexible tubing, copper rod, brass mesh)
Box artwork:
Instruction manual:
Painting guide (x2):
Main fuselage and clear canopy/sensor parts:
Thrusters, landing struts and detail parts:
Seated pilot figure: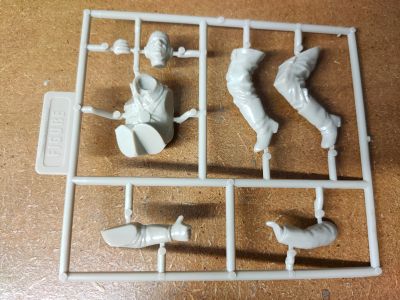 Multimedia parts: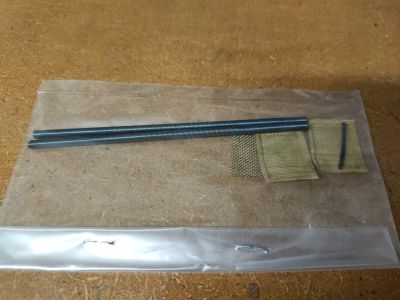 In-Progress Images
[October 2022] - Started building the Fledermaus kit. There's definitely bits and pieces of this that make it obvious it is a (relatively) ancient kit - parts which don't line up exactly, and things which you wouldn't do in a modern kit (needing the entire interior glued in place before the upper and lower wings can be put in place.
That said, it's a fairly clean design, and with a bit of thought, goes together relatively easily. Plenty of plastic cement and use of a file is needed on many of the seam lines to tidy them up.
Lower and upper fuselage sections, with the cockpit partially completed. This is not according to the build instructions, but I checked and the cockpit interior can still be installed, as long as the upper cockpit canopy is not installed.
Interior and the five main thrusters (which are all two-part designs):
Thrusters fixed in place:
Main engine attached to upper fuselage: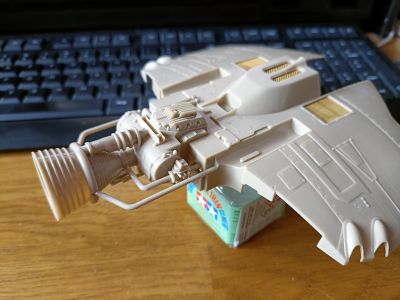 Upper and lower fuselage temporarily in place (I haven't messed it up, thank goodness):
Assembled the pilot figure (minus his hand… which is rolling around my desk somewhere…) and started fitting the additional parts to the fuselage:
[Update 5th October 2022] - Added 'fuel tanks' to upper fuselage: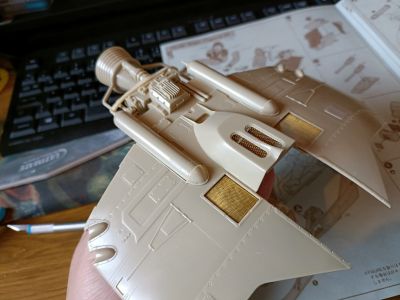 [Update 9th October 2022] - Started building front and rear landing gear:
[Update 12th October 2022] - Completed landing gear and cutting cockpit canopy to fit: