Heavy Armoured Fighting Suit 'Jerry'
Manufacturer: Nitto

Part number: Ma.K Series 10

Year of production: 1998

Scale: 1/20

Series: Maschinen Krieger / ZbV 3000 / SF3D

Kit type: Multimedia kit (plastic, rubber piping, brass, etc), some movement possible

In-universe role: Heavily Armoured Walker, Mercenary forces

Build date: ???
I bought this kit from Hobby Link Japan in the late 90's or early 2000's - intending to use it as a donor kit to bash up some home-brewed biped mecha for some tabletop wargames I was playing at the time.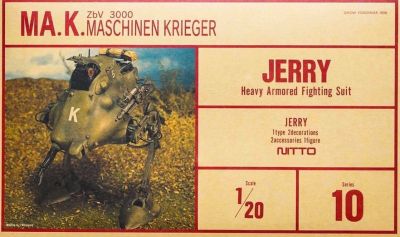 Tools Used
Colours Used
Background
In-universe, the 'Jerry' is supposed to represent an early attempt by the mercenary forces to produce a viable heavy fighting machine whilst they are perfecting their Super Armoured Fighting Suits (SAFS) to combat the enemy Strahl Democratic Republic forces who have existing forces of tanks and heavy weapons. It represents a stop-gap design until the smaller, man-sized powered suits and man-carried laser weapons evolved to a point of practicality.
This was the first Maschinen Krieger design I bought, in the late 90's or around the year 2000. I didn't know anything about Ma.K at the time, but was searching for walker/mecha proxies for board games/tabletop gaming that I was playing at the time. It has sat, unbuilt, for at least 20 years….
Box Contents
In 2021 I finally opened the box which had sat in my big store of unbuilt models to take a look at what was inside:
Instruction manual

Painting guide / information card

1x Waterslide decal sheet

5x Plastic part sprues

3x Main body parts, in green

1x Pilot figure, in beige

1x Canopy/sensor cover, in clear

3x Bags of multimedia parts

1x Bag of brass and plastic rods

1x Bag of wiring, thin tubing, nylon spacers/washers and screws

1x Bag of flexible rubber hose
I can understand why a lot of these early Ma.K models by Nitto are so sought after - the quality of the overall experience is first class;
Individually bagged components

High quality cardstock reference card and painting guide

Clear, large format manual

Loads of extra multimedia bits (brass pipe, wire, mesh, rubber tubing etc.)

Crisp, clear waterslide decals
In-Progress Images