Panzer Kampf Anzug Ausf ver.K - 'Kauz'
Manufacturer: Wave

Part number: 21

Year of production: 2009

Scale: 1/20

Series: Maschinen Krieger / SF3D

Kit type: Articulated model kit, poseable with polycaps

In-universe role: Powered Armoured Suit (Space Type) - ver.K, Strahl Democratic Republic forces

Build date: August 2021
I bought this kit, un-assembled, from Buyee.com in July 2021. I paid a reasonable sum (£28); less than a lot of others were reselling them for (bearing in mind it was a 10+ year old kit at the time), but obviously with shipping and import taxes to them have to pay. Still, for something relatively rare and expensive in the west, it was a pretty good deal.
Manufacturers images below:
Tools Used
Colours Used
Background Info
Box Contents
This kit shares the runners with the original Nitto kit, it is not the later Wave-branded frame. All of the sprues are relabelled Nitto frame with the Nitto brand removed on one side (but still visible on the other!).
Instruction Manual

Paint guide / Information card

2x Waterslide decal sheets

1x Kauz decals

1x Fliege decals

7x Parts sprues

A (Fliege), off-white, pilot seat, engine interior

B (Fliege), off-white, skirt armour, laser cannon, flight sensors

C (Fliege), off-white, feet, legs, arm

D (Fliege), off-white, thrusters, inner joints of arms and legs

E (Kauz), off-white, main body (sides), flight sensors

F, clear, sensor lenses

Figure, beige

2x Bags multimedia parts

1x Bag flexible rubber tubing

1x Bag wires & flexible hoses

1x Set of (12) nylon spacers
Box artwork:
Instruction manual:
Painting guide:
Waterslide decals: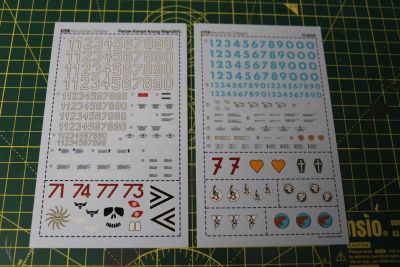 Parts sprues: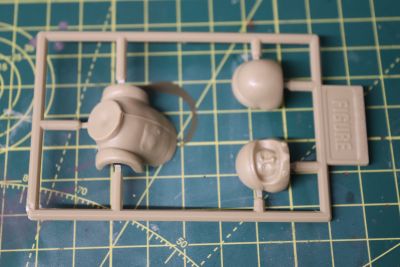 Multimedia and other small parts:
In-Progress Images
[Update - 11th August 2021] - Started the assembling of the Kauz.
The rubber covers over the joints (replaced in the modern Wave retooling of the Kauz with all-in-one polycap material) are fiddly to say the least. If you leave them as reccomended in the instructions they come away from the joints when you move or rotate them. If you glue them to one side of the joint then they don't quite reach when bent (and you can't glue both ends as you then cannot rotate the joint….). Definitely something that has been improved on the later models:
Legs, these are a bit fiddly, since the joint for the ankle is right next to where you have to run poly cement to seal the two halves of the calf armour: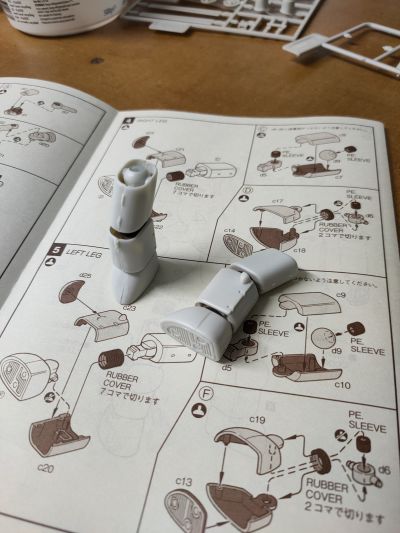 Engine/generator which will be fitted inside the model, so you don't actually get to see it unless you decide to leave the rear hatch off. Also the torso of the pilot (which you can see, since the upper-cockpit hatch is on a hinge):