Table of Contents
Panzer Aufklärungs 'Krote'
Manufacturer: Wave

Part number: 9

Year of production: 2010

Scale: 1/20

Series: Maschinen Krieger / SF3D

Kit type: Large scale kit, poseable with polycaps

In-universe role: Heavy Armoured Autonomous Walker, Strahl Democratic Republic forces

Build date: ???
Bought this one from an auction on Buyee.com in July 2021. It was listed as unused and unbuilt for a reasonable price (~£30); much better than the scalpers on Ebay (£100+ in 2021!!!) were wanting for one.
Manufacturers images below:
Tools Used
Colours Used
Background Info
The Krote is one of the larger ground vehicles from the Ma.K universe and one of the few 'autonomous' designs - most being crewed by a human operator. The Krote is a heavily armoured bipedal walker which, as standard has a heavy multi-barrel machine gun. A variant of the Krote mounts a 75mm cannon and is referred to as the PaK Krote (in reference to the real weapon of the same name from WW2). A version of this model was produced by Wave, but is extremely hard to find: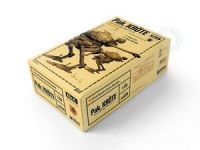 There are also resin/garage kit conversions to make a normal Krote into a PaK Krote, but again, these are expensive: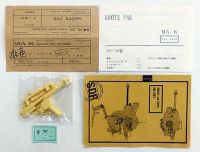 The Krote also forms the basis of several additional designs:
The Kuster, which takes most of the basic Krote design and then ramps everything up a notch, with smoke dischargers, radar and extra details. Wave made at least one production run of this version:
Then, there is the Konigs Krote, or King Krote, which changes the head/turret design quite significantly, adds a low-slung central sensor/laser pod and mounts multiple missile launchers, with the machine gun relegated to a secondary weapon. It's quite a big model and I've been unable to find any major manufacturer who released one; they all seem to be resin kits: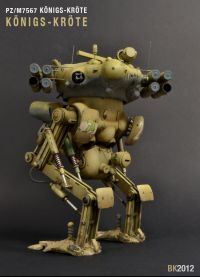 There is a Youtube channel by the model builder Jon Bius who has built and painted a Kuster (but it's 95% identical to a Krote). I think it is an excellent example of how good they can look; it's also a really good tutorial for various weathering techniques. I've linked part 1 and part 2 of his videos below:
I will almost certainly be copying some of his techniques and borrowing some ideas from his painting scheme, since I want most of my SDR (Strahl Democratic Republic) army designs to all be variants on the same grey/blue/yellow colour scheme.
Box Contents
All of the parts sprues in this particular production run are re-used Nitto designs. They have 'Nitto' removed from one side of the sprue, but it remains moulded clearly on the other side! :D
Instruction manual

Painting guide / information card

2x Bag of multimedia parts

1x Bag of brass rod & wire

1x Bag of springs, photoetched brass, flexible rubber tubing

5x Parts sprues

A (Krote), beige, main hull

B (Krote), beige, main hull detail parts

C (Krote), beige, lower hull

D (Krote), beige, legs

I (Gans), beige, armour parts, smoke launchers

Figure, beige

1x Clear sensor cover

1x Bag of (6) nylon spacers
Box artwork:
Instruction manual:
Painting guide:
Waterslide decals: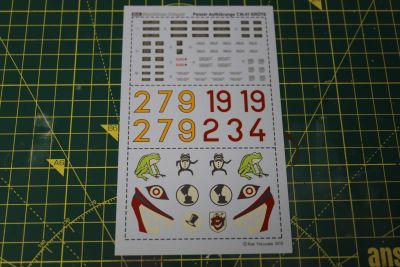 Parts sprues:
Multimedia bits and other small parts:
In-Progress Images