Table of Contents
Super Armoured Fighting Suit - 'Rapoon'
Manufacturer: Wave

Part number: MK-17

Year of production: 2017

Scale: 1/20

Series: Maschinen Krieger / SF3D

Kit type: Articulated model kit, poseable with polycaps

In-universe role: Super Armoured Fighting Suit Mk.III Recon Type Rapoon, Mercenary forces

Build date: October 2022
Bought new from Yahoo Japan Auctions (via Buyee.com) in July 2021.
Manufacturers images below:
Note: The Rapoon can be built as a pure recon-design, or as a armed version. The above shows the pure recon type - the armed design replaces the left arm for a powerful laser cannon as per the box art.
Tools Used
Colours Used
Background Info
Box Contents
Instruction manual / painting guide

1x waterslide decal sheet

14x Parts sprues

A (S.A.F.S), red, main body (front), hand, fingers, hatch interior

B (S.A.F.S), red, feet, legs, joint parts

D (Snake Eye), clear, hatch sensor cover

DD (Rapoon), red

E (Snake Eye), red, hatch parts

EE (Rapoon), beige, pilot head

F (S.A.F.S), red, arm, shoulder/skirt armour

G (Raptor), red, laser cannon, main body (sides)

I (Raptor), red, pilot head (alternate), leg armour

PC (Prowler), grey, joint parts & polycaps

PC (S.A.F.S), grey, polycaps, tubing, joint parts

S (Prowler), red, arm, hand, fingers, front sensor

T (Prowler), clear, front sensor cover

V (Racoon), red, sensor parts
Box art:
Instruction manual and painting guide:
Waterslide decals: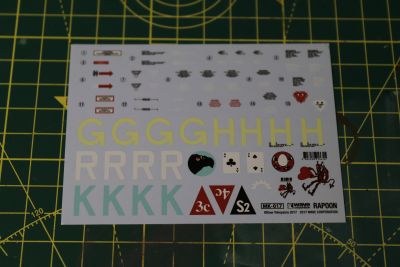 Parts sprues:
In-Progress Images