Panzer Kampf Anzug Ausf ver.M - 'Melusine'
Manufacturer: Wave

Part number: 22

Year of production: 2010

Scale: 1/20

Series: Maschinen Krieger / SF3D

Kit type: Large scale kit, poseable with polycaps

In-universe role: Powered Armoured Suit - ver.M, Strahl Democratic Republic forces

Build date: ???
I bought this kit, un-assembled, from Buyee.com in July 2021. I paid a reasonable sum (£31); less than a lot of others were reselling them for (bearing in mind it was a 10+ year old kit at the time), but obviously with shipping and import taxes to them have to pay. Still, for something relatively rare and expensive in the west, it was a pretty good deal.
Manufacturers images below:
Tools Used
Colours Used
Background Info
The Melusine is a later-model armoured fighting suit of the Strahl Democratic Republic (SDR) within the Maschinen Krieger universe. It was developed to combat the later models of the mercenary army's SAFS suits. It's very heavily armoured compared to the earlier suits, with a powerful laser mounted in place of the left arm and remote visual sensors (no glass face-plate).
The Melusine shares a lot of similarities with the Kauz, since the Melusine is intended to have been a later, ground-only suit developed from the Kauz. The silhouette is mostly unaltered, except for the removal of the Kauz' thrusters and flight sensors.
I absolutely love the twin designs of the Kauz and the Melusine; they are probably the two favourites of the SDR forces - I think it's the really bulky, forward-sloping upper torso that does it…
Box Contents
The Melusine kit is a mixture of re-used Nitto parts and newly designed frames specific to the Melusine by Wave.
Instruction manual

Addendum/correction notice sheet

Painting guide / info card

1x Waterslide decal sheet

7x Parts sprues

A (Melusine), green, main body (Melusine variant) - new Wave parts

A (Gustav), green, main body (Gustav variant), inner joints, panzerfaust

B (Melusine), green, pilot, inner cockpit, main body front (Melusine variant) - new Wave parts

B (Gustav), green, legs, laser cannon

C (Gustav), green, main body top cover

D (Gustav), smoked transparent, cockpit glass for the Gustav variant only

Figure, beige

1x Bag multimedia parts, brass mesh, wire, rubber hoses

1x Set of (12) nylon spacers
Box artwork:
Instructions:
Addendum/correction notice: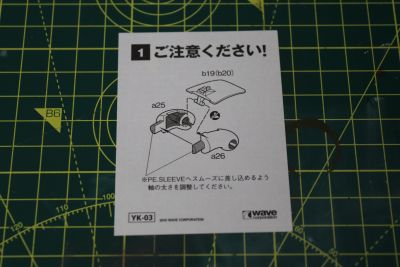 Painting guide:
Waterslide decals: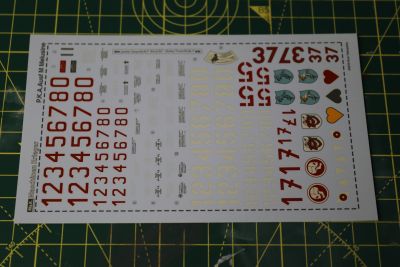 Parts sprues:
Multimedia and other small parts:
In-Progress Images